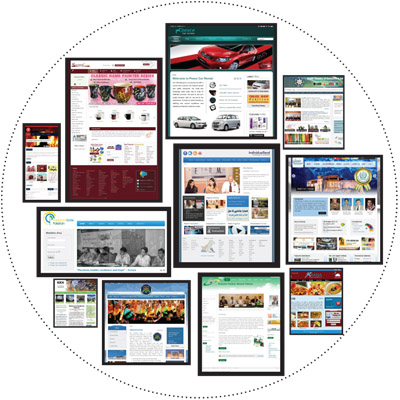 If your business website is not created correctly and professionally, chances are you are losing many potential clients. dzignet, a
Premium Web Development Company in Islamabad — Pakistan
, provides attention-grabbing Websites that stands out from the huge competition. We provide customized web development solutions to diverse businesses. Our prime goal is to offer our clients a professional and affordable website development solution that is effective, competitive and provides a positive
Return on Investment
(ROI). Our web a development team is responsible for behind the scenes tasks like creating a customized
Content Management System
(CMS), integrating existing systems,
Customer Relationship Management
(CRM) and security.
We know that having a good website is very important for any business in today's world. At present, any kind of product and service can be accessed online and your business website is the center of information and interaction for your target customers. dzignet, a leading Website Development Company Islamabad, provides
high-quality website development services
to its diversified clients and help them to enter into digitalized world.
Our experts discuss your business needs, understand what you expect and explain what can be achieved. Apart from this, our experienced developers & programmers start working on your interactive web and keeping you constantly updated. They follow the quick path to development with changes and refinements being integrated as they go along rather than at the final stage.
From a simple
HTML site
that advertise your business to the most interactive sites that need advanced web scripting, we can help in creating
create top websites
. We deal with
tracking and maintaining the websites
as well.
Designing effective websites that are attractive, easy to navigate, quick to load and works across all computer platforms. We master both the business side & the art side to generate professional designs yet very good looking for visitors.
We carefully study our clients' business nature to best reflect their image on the website in all aspects
Our Web Development services include:
Static Website
Dynamic Website
Flash Web Design
Brochure Website Design
Blogs
Search Engine Optimization

 

CMS
E-Commerce
Custom Web Design
Email Marketing
CD Presentation
 
Basic
Business
Advanced










Layout
Eye Catching & Smart
Attractive

Corporate Look
Pages #

5
6-20
21-45
Free Domain
Yes
Yes
Yes
Free Hosting
-
1000 MB

1000 MB

CMS
-
Yes
Yes
Email
-
10
∞
Contact Form
Yes
Yes
Yes
Gallery
Yes
Yes
Yes
Hit Counter
Yes
Yes
Yes
Stats
-
Yes
Yes
Basic SEO
-
Yes
Yes
Flash Header
Yes
Yes
Yes
Admin Control Panel
-
optional
Yes
Search Feature
-
optional
Yes
Shopping Cart
-
-
Yes
Help & Support
Yes
Yes
Yes
 
For further details and queries please Click Here