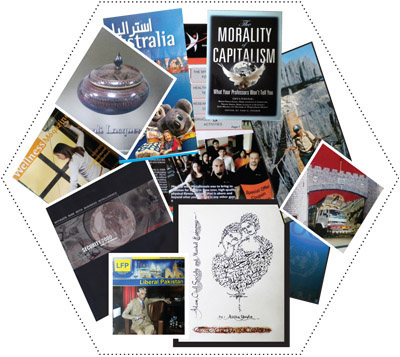 Graphic design involves combining creative graphics and text in such a way that it
promotes your business in the form of logo, graphics, newsletters, brochures, posters and many more.
Graphic design is an important element of your business. dzignet is
top Creative Graphic and Graphic Design Company in Islamabad.
We design
attractive
and appropriate Web Graphics Design and assist you to create a well-built advertising tool to convey worthy information about your product,
business and its services
. We execute the
design ideas
that communicate with the customers for a diversity of Online Marketing and Social Media necessities.
At dzignet, Our Graphic Designers merge
new techniques and technologies
with
imaginative and innovative ideas
to bring your graphic design in
focus
. We offer you almost any graphic design service that you can imagine with a special importance on web
graphic design service
. Our aim is to offer your brand business with a distinct and professional look.
Whether you need a flyer, brochure, folder or even a display stand, we can help. We offer a full artwork service, delivering punchy, eye-catching designs. We work closely with clients, to take the brief or initial ideas and quickly translate these into full-colour proofs, using the latest design technologies.
We know how to create designs which exploit today's versatile printing technologies to the full
Our Graphic Designing services include:
Ad Design
Book Cover Design
Book Layout Design
Brochure Design
Flyer / Poster Design
Photo Manipulation

 

High End Graphic Design
Illustration
Logo Design
Newsletter Layout
Photo Restoration
As
professional graphic designers
and illustrators, dzignet has the extra creativity and expertise in graphic design to help you reach your potential through marketing! We'll deliver
exciting graphics
, layout and design concepts that won't Exceed your budget...
just your Expectations!

Advantages & More with dzignet

Apart from Books Design services, Logo Design services, Brochure Design services, Banner Design services, Web Design services we also offer additional services such as Newsletter Design, Flyer/Leaflet Design, Stationary Design and Souvenirs Design or any other type of graphic designing that you need. Our unique all-round expertise in graphic design ensures our clients get high quality on-time delivery always. We have a client-centric approach to project execution to ensure complete customer satisfaction no matter what. We have a wide diversity of clients across different verticals from Travel and Tourism, Healthcare, Real Estate and Fashion. This wide exposure to the different needs of clients in different verticals provides us with unique insights into how to use graphic design to serve the needs of diverse businesses from across the world. Get in touch with the team at dzignet to learn more about how we can help you with your graphic design needs.
Professional graphic design services
Affordable and high quality creative graphic designs
Attention to detail
Commitment to your business
Unlimited revisions and designer's view on decisions
Customer satisfaction guaranteed

For further details and queries please Click Here